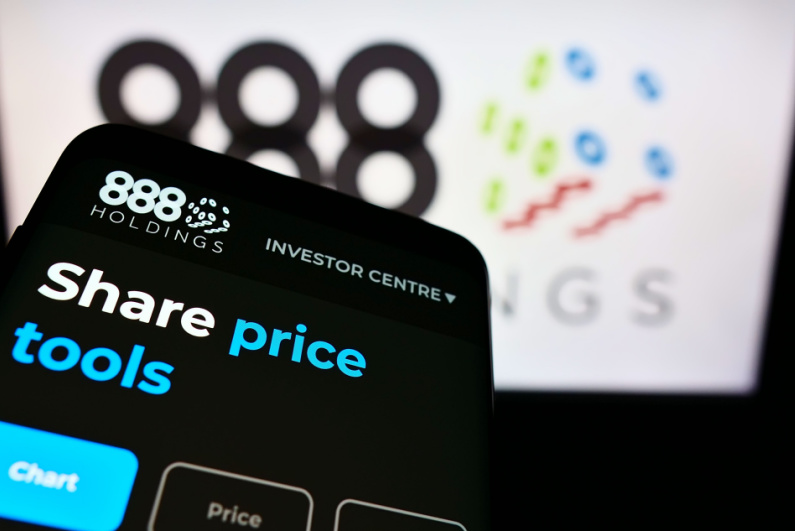 The pressure of massive debt has prompted global sports betting giant 888 Holdings to surrender its footprint in US states that don't offer iGaming as well as sports betting. [Image: Shutterstock.com]
888 commits to a strategic retreat
While not quite biting the dust like MaximBet and FuboTV's sports betting arm did recently, the brutal battle for US sports betting market share has seen another competitor raise the white flag.
pull its sports betting arm out of some US states
On Tuesday, 888 Holdings announced it would pull its sports betting unit out of some US states as it attempts to slash its growth-inhibiting £1.6bn ($1.9bn) debt. Twitter user Stephen Knowles shared 888's Capital Markets Day presentation containing the firm's new strategy:
The group intends to move from its "untargeted mass market sports approach […] in a wide range of states" to focus on states that offer iGaming alongside sports wagering in order to tap into a market segment 888 dubbed an "unsexy sweet spot."
The global betting giant's "refined focus" on key iGaming/sports betting states comes from the need to soothe investor jitters by slashing the $1.9bn of debt it incurred after borrowing heavily to buy William Hill International.
888 feeling the pinch
In another related report, Bloomberg on Tuesday revealed that banks including JPMorgan Chase & Co intend to return to market to offload $417m of the 888 debt they shouldered for financing the William Hill buyout by selling it to investors.
The betting giant completed its purchase of William Hill's non-US operations in July after Caesars agreed to sell in September 2021. The sale handed the buyer 1,500 UK betting shops and online assets in markets that include Spain and Italy.
888's own shareholders, meanwhile, are nervous about the higher interest rates. The firm stated it was "more exposed" to these rates because the structure of the William Hill buyout "resulted in the group's net debt being higher than was anticipated."
The gambling company said it would take an "extremely disciplined approach" to capital allocation. Of 888's $1.9bn debt at the end of September, 64% was at floating rates, affecting 888's "ability to reinvest excess cash flow in accelerating growth in the short term."
No regrets
888 CEO Itai Pazner said he "absolutely did not" have any buyer's remorse over William Hill. Instead, Pazner offered, the unforeseen inflation plaguing the market was "out of our control." The CEO said he was confident 888 would be able to present a stronger balance sheet via "very solid plans in order to deleverage and to create higher margins for our business."
888's move follows that of MaximBet, Fubo, and Unibet's retreat from Iowa, as the realities of the US sports betting war keep on biting.